You feel healthy. You have good energy levels, feel happy and are engaged in life's activities. Don't get lulled into complacency! Taking time to get your preventative screenings when you are healthy and symptom-free is the best way to safeguard your vitality.
Yet, even the best intentions can get sidetracked. JoAnn Perotti, Director of Strategic Services at Bucks County Intermediate Unit (Bucks IU) has first-hand experience when it comes to the capacity for preventative screenings to save your life — and just how easily it is to forget about them.
Low risk
There are no red flags in Perotti's risk factors. She's 65 years old with no family history of breast cancer. She breastfed both her children, which according to Breastcancer.org, may lower risk for breast cancer. She dutifully got an annual mammogram when her physician began recommending them.
Perotti's breasts always received a clean bill of health, but their large size caused her pain. Back pain, neck pain and shoulder indentations were part of her daily existence. Her physician and chiropractor recommended breast reduction surgery. In 2007, Perotti went through with the procedure and emerged feeling fantastic.
"It was a relief to be free from pain," Perotti says. "The heaviness was gone."
Out of sight, out of mind
For the first time in years, Perotti was blissfully unaware of her breasts. Life rolled along. She went on vacations with her partner of 23 years, Kelly Lambert. They married in 2014, the moment it became legal to do so. Life was filled with positivity and Perotti lost track of time.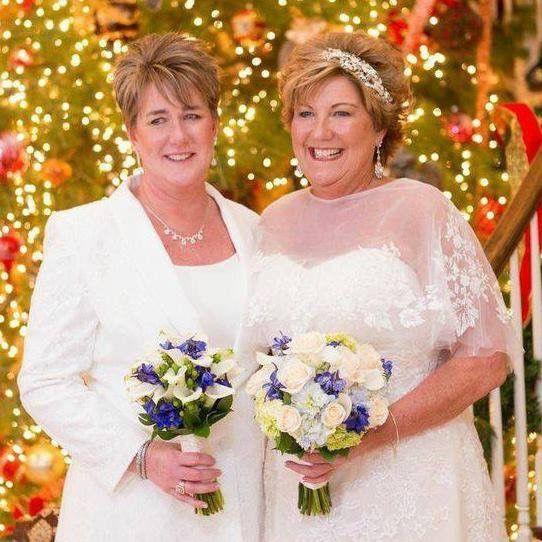 When Lambert developed some health issues following her retirement, Perotti urged her to start getting check-ups.
"Because of her health issues, I was saying, 'When was the last time you got a mammogram or saw the gynecologist?'" Perotti recalls. "Then she asked me, 'When was the last time you had a mammogram?'"
They agreed that they'd each make their appointments during the summer of 2018. When Perotti went in August, she was stunned to learn it had been 11 years since her last mammogram.
"I was blown away," she says. "I panicked in my mind thinking how fast the time had gone by."
Good timing?
On August 8, 2018, Perotti had a mammogram plus 3D imaging. Two days later she received a call from her primary care physician, who told her three suspicious lumps had been detected.
The next week she went in for an ultrasound that confirmed the lumps. On August 22, she had a biopsy on the largest of the three.
It was an understandably emotional time. August 22 was Bucks IU's opening day for employees. Traditionally, Perotti always attended, but prioritizing the biopsy was a smart move. On August 24, the clinic confirmed ductal carcinoma in situ Grade 1, a form of breast cancer. Fortunately, the cancer was caught early and was confined to the milk ducts.
"As soon as I heard, I immediately started feeling for lumps," she says. "I could not feel anything."
Perotti's lumpectomy was scheduled for Sept. 17. She also sought additional opinions at Fox Chase Cancer Center. She opted to have the other two lumps biopsied as a further preventative measure.
Serious about screenings
Perotti's experience underscores the role of preventative screenings in detecting cancer in its early stages. In breast cancer, self-exams are beneficial, but lumps can be sizeable before you can feel them with your hand. That is one of the reasons mammograms are so important.
In addition to screenings and treatment, Perotti practices a fusion of holistic medicine that includes regular massages, reiki and vibrational healing. And she finds Bucks IU's health communications valuable. Monthly information through email on health care, the quarterly newsletter and annual biometric screening are all ways to keep employees focused on their health habits.
"If I did not have my screening, my cancer would have been much worse," she says. "I was sidetracked for 11 years, but that's better than 22. If it wasn't for my mammogram, I would have never known."