There's a new food truck rolling around town. But don't expect to see it at the festival circuit anytime soon. This repurposed, full-sized school bus is Gates-Chili Central School District's creative and game-changing way of making sure children get at least one hot meal per day during the summer months.
The need is real
Over the years, Kimberle Ward, Superintendent of Gates-Chili, has watched her district's poverty levels increase. District-wide, 29 percent to 55 percent qualify for free and reduced-price meals.
"We want to accommodate this shift as a district," Ward says. "We work towards nurturing and meeting our community's needs."
In response to students' increased need for food security, Debbi Beauvais, director of food and nutrition, has been running the U.S. Department of Agriculture's Summer Food Service Program (SFSP), which provides a hot meal to children during the summer months. Over the past two years, she's arranged vans with portable tables to bring food to the children at summer camps and recreational programs.
"When I saw a presentation of a summer meals bus in Florida I joked that I needed funding for one of those," Beauvais recalls. "When Kimberle heard that she said, 'I think I can do that!"
Cooking up a plan
Beauvais modeled the blueprint for a food truck bus from a district in Kentucky. She shared the plans with the transportation and maintenance crew, who said they could make it happen.
After all, this is the same creative team that built the Safety Bus; a bus sliced in the middle with the back half turned on its side and reattached. Surely, retrofitting a school bus to be a mobile cafeteria could be achieved!
If you build it
Matthew Hembold, supervisor of transportation, approached Matthews Bus Company, an organization that sells Thomas buses. After hearing about the need for the bus, the company decided to donate a bus along with a paint job and air-conditioning units.
Because of the food service component, floors had to meet health code for cleaning. Additionally, a generator and wiring had to be run for the popcorn machine, washing sink, refrigerator and food warmer. Food is cooked at the school's cafeteria then put on the food bus for serving.
"Along with lots of fruits and vegetables," Ward adds.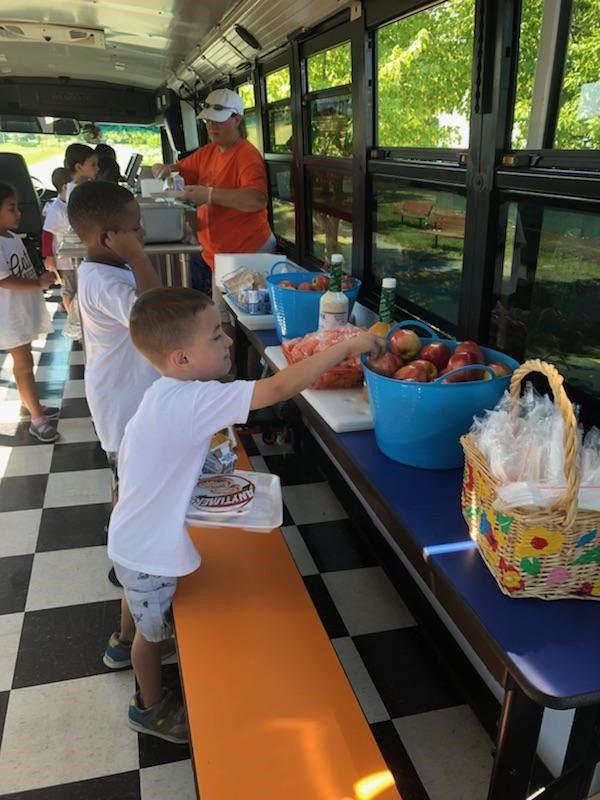 Hembold, Ward and Beauvais are deeply appreciative. "That equipment was all donated," Hembold says.
They were also appreciative of the Facilities Department. This time around, given that the bus was a cafeteria on wheels, the Facilities Department was able to help with electrical and flooring. George English, director of dacilities and transportation, oversaw installing the subfloor and the perky black and white checkerboard floor.
The food bus's exterior is painted bright white. An array of decals covers the bus — the Spartan mascot, Spartan Eats Food Bus signature logo, Gates Chili mission statement, the USDA SFSP logo and logos of the vendors that donated to the food bus.
"It's impressive," Beauvais says.
They will come
This summer the Spartan Eats Food Bus was beta tested at the Gates Recreational Summer Program. Beauvais says she fed 80 kids and moved them all through in about 30 minutes. Kids grabbed their food like a cafeteria and could eat outside or inside the bus.
"The kids thought it was really, really cool!" Beauvais says.
Next summer the bus will be in service for the duration of the SFSP program and going to neighborhoods thus removing the barrier of parents and students getting to the school for a meal. The food bus will serve any child 18 or younger. Parents can eat for a modest fee.
The bus won't sit idle during the year. It welcomed the 800 district employees with a build-your-own yogurt parfait workshop. It will travel to St. John Fisher College's homecoming as a fundraising concession stand. The district also hopes to use it to serve a hot meal to students during school breaks.
"In the end our mission is education," Ward says. "You can't teach hungry kids. They need to keep growing and staying healthy during summer so they are ready to return and learn."