Walk into the main barn, take a right into the kitchen, find the menu and look at the top.
"CHICKEN & NOODLES $4.75"
That's how you'll truly know you've reached the annual Waverly Midwest Horse Sale, located at 2212 5th Avenue NW.
"I hear it every time: 'I traveled thousands of miles just to taste your chicken and noodles,'" said Sharon Beyer, one of the owners. "That's the big, popular item. Oh my god, yes. I don't know if they don't know how to make it at home or what."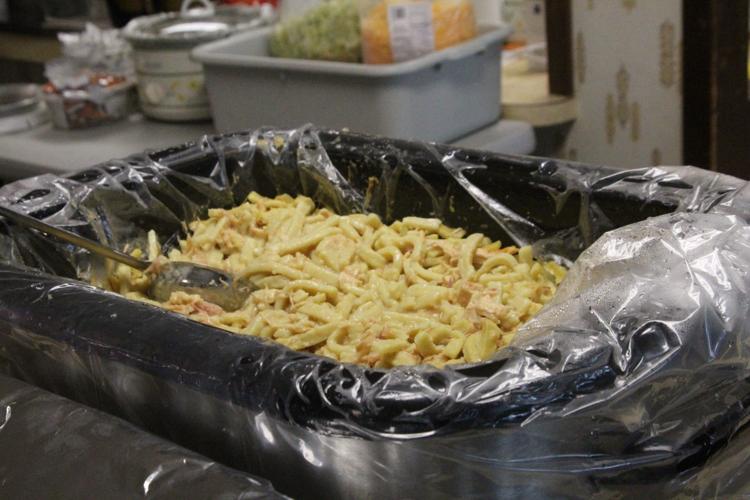 The creamy dish might just be the main attraction of the sale — well, second to horses, to be sure.
Horses and noodles: it's why thousands of people visit the horse sale every year. It's why a few hundred braved the rain and mud to bid for horse equipment Tuesday.
This place has a history.
Founded in the 1940s by Arnold Hexom, the horse auction has operated annually, drawing farmers from all over: Iowa, Minnesota, the Dakotas and even Canada.
Nowadays, it's owned and operated by Beyer and Ron Dean, her brother. Their father, Bill Dean, came into partnership with Hexom in 1965, so Ron and Sharon grew up with this company.
"I've been here most of my life," Ron said. "My father before me had it. I've just been raised around it all my life and have been here since I was a kid. Me and my sister are shareholders of it."
Ron oversees the auctions, while Sharon handles the kitchen — altogether, the event requires 130 people to set up.
"They know what to do," Sharon said of the helpers. "They've been here so long, I don't even have to tell them."
While horses are the main commodities, Tuesday was dedicated to selling equipment: harnesses, buggy parts, plows, saddles and all kinds of machinery.
Sitting amongst the pitter-pattering rain on the silver bleachers, buyers bid on items while auctioneer Allen Freerks accepted bids and declared goods sold to the pace of five words a second — or so it seemed.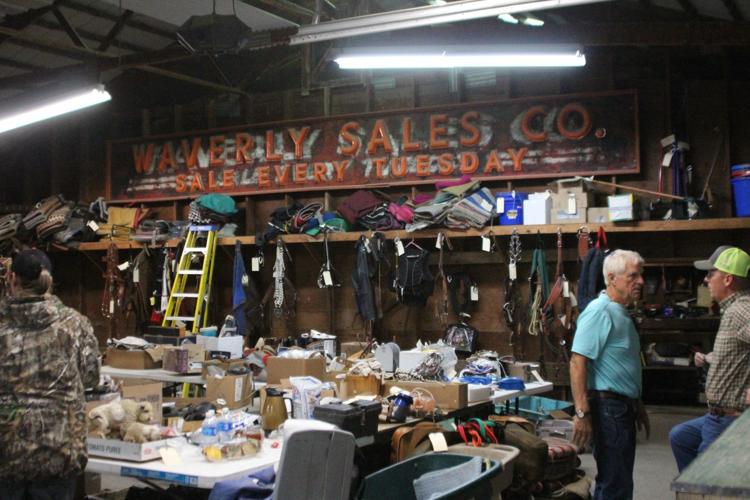 Countless items line the warehouse behind the auction stage, but harnesses are a premier category. Their function is to allow a horse to pull carriages or wagons, but that understates how ornate they can look.
John Beachy, a local Amish man, has been bringing his handmade harnesses to this sale for 25 years now.
Since he was 19 years old, he's been crafting horse harnesses the same way a jeweler might craft a diamond ring.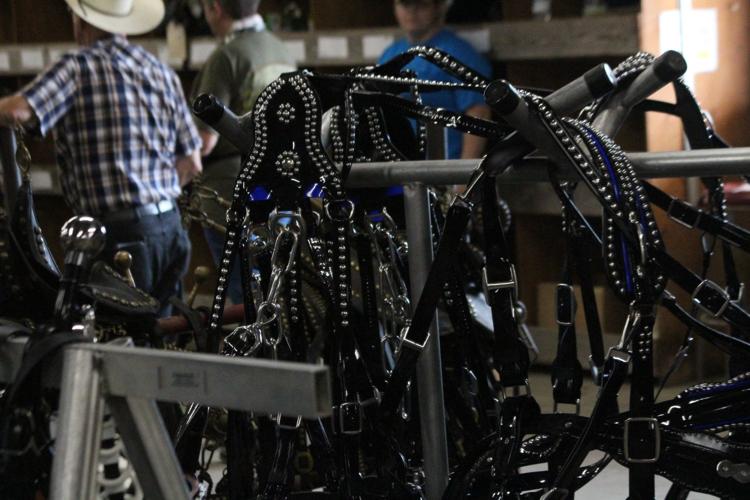 Showing bright red and blue colors and shiny, silver studs, two sets of Beachy's synthetic harnesses take three days to make and go for around $1,000 a pop.
Beachy estimates he sells five sets and two singles each day he attends the sale.
Most of the sale's attendees have been coming to Waverly for quite a while. Harlan Pruin has come every year since 1947 — well, he missed one year, but that was only because he was sick.
Pruin, an 80-year-old Clarkesville man, was also selling harnesses Tuesday because, as he put it, "I'm getting old. I have to give it up."
As it happens, the horse sale has played a large role in Pruin's entire life as well — his father was also friends with Hexon.
(Dean said he grew up bouncing on Pruin's knee when he was a kid — it's a tight-knit community.)
"I've always been interested in the horse business," Pruin said. "I just like to come over and see the different things they've got for sale and how things have changed. In the early years, I worked for veterinarians, but I also helped Arnold on the horse sales years ago."
Though it still attracts over a thousand patrons on a rainy week, those who are close to the sale admit it's slowly getting smaller.
Once the horse sale went for five days a week; now, it only has four days now. Once the company owned around 1,000 horses; it now owns about 500, according to Beyer.
"It's getting to be a dying thing," Beyer said. "When it all started back in 1945, the farmers used the horses for farming. Now, there are less farms, bigger corporations, better machinery. The younger generation can't afford the horses with the price of pay and feed and everything. And then there's other competition in other states too. They used them a lot for farming back then."
In the mid-20th century, there were only a few horse sales in the country that matched the caliber of Waverly.
"You know, years ago, there were only two or three sales in the United States, back in the 40s and 50s," Pruin said. "There was one in Waverly, one in Indiana and one in Cedar Rapids. But there's one just about every week now. There's always a sale somewhere.
"And the generation of the horse people — we're kind of fading out. My grandkids and great-grandkids, they're not interested in horses."
While numbers are declining, Ron and Sharon's vigor is not. They plan to keep having the sale every year, just like Hexom did almost a century ago.
Pruin and his wife Linda agreed that the sale in Waverly remains special because of its history, its people, and yes, the chicken and noodles.
Those will stay at the top of the menu for the foreseeable future.
"I think they've had chicken and noodles for as long as I can remember," Pruin said. "They must like them."