The clock reads 3:30 p.m. Some students have left school, gotten on the bus and headed home to study for their next quiz — others have laced up their football cleats, strapped on their volleyball pads or slipped on their long-distance spikes.
It's mid-October in Waverly, dead in the middle of fall sports season.
The first match is still more than a month away, yet the Waverly-Shell Rock wrestling team is going to work.
Inside the stuffy wrestling room, starkly contrasting with the cool rain edging down the windows, students in T-shirts and gym shorts jog in a big oval along the room's perimeter to the southern drawl of country singer Jason Aldean.
This Oct. 23 fall wrestling practice is now underway, and former W-SR wrestling coach Rick Caldwell — a stocky figure in a blue Under Armor athletic shirt, black sweatpants and a salt-and-pepper beard — decides now is a good time to speak to the team, with current head coach Eric Whitcome looking on.
Caldwell and Whitcome are earnestly asking why the wrestlers aren't in better shape.
"Take a little ownership. Burn some calories," Caldwell insists. "If you're not doing that, then you're not serious about accomplishing the things we want you to accomplish.
"We make suggestions with your best interests in mind."
The two coaches are trying to hammer home the importance of hard work, because, well, they expect it.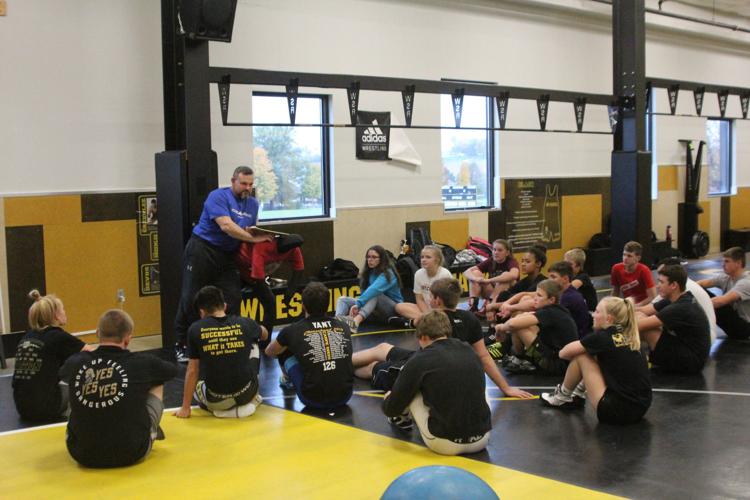 W-SR is coming off a state championship, and a title defense is something to be taken seriously.
After the stern speech, the 18 wrestlers — 12 boys, six girls — start to grapple with one another.
This is common; for a while now, girls have been welcome to the wrestling team.
But now, with the start of the season upon us, these same girls are practicing in their own wrestling room.
For the second year in a row, Waverly-Shell Rock has its own separate girls wrestling team, and in the landscape of Iowa high school wrestling, that is anything but common.
If you build it, they will come
To discuss the advent of the Waverly-Shell Rock girls wrestling team, the conversation has to begin with Eric Whitcome.
According to a National Federation of State High School Associations report published in late August, there were 21,124 girls high school wrestlers in America in 2018-19, a 27.5% increase from the year before.
The sport is certainly growing on the girls side. But the same NFHS report stated that wrestling is only the 17th most popular sport for high school girls.
Work remains to be done, and Whitcome is happy to lead the frontier.
In addition to being the W-SR head coach for the past eight years — and winning the 2018-19 All-Iowa Coach of the Year — Whitcome works often with Iowa USA Wrestling, which means taking trips to Fargo, North Dakota, for the USMC Cadet and Junior National Championships.
Whitcome sees the girls side of wrestling taking form 423 miles to the northwest, which has fueled his desire to bring that development to Waverly, and Iowa.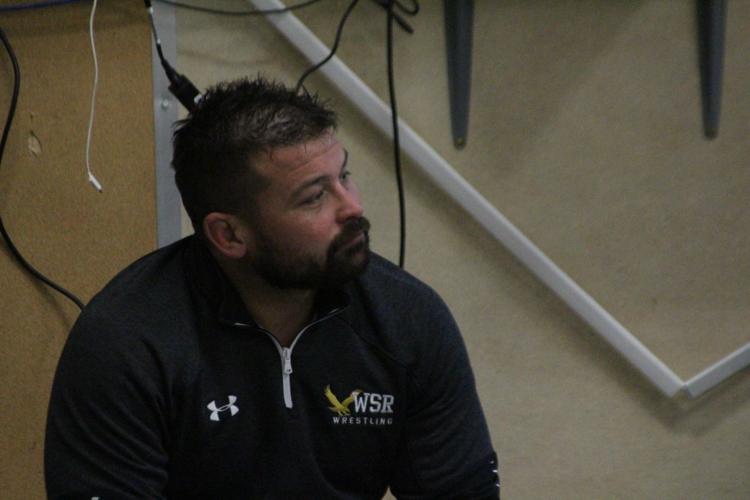 "Conversations I was having with my coaches and our club board so far was, 'We want to be ahead of the curve of girls wrestling in the state of Iowa,'" Whitcome said in October.
Thus began the 2018-19 W-SR girls wrestling team, which couldn't have had more success. In their inaugural year, the Go-Hawks won state as a team, and two girls — then-sophomore Avery Meier and then-freshman Annika Behrends — won individual state titles.
Eleven girls put on black and gold that season.
More than 20 will this season.
The spike in interest and participation is multi-pronged.
One factor is simply that newcomers see last season's success and new opportunities in a sport that has always been dominated by males.
Social media is a big reason more girls are becoming more interested, Whitcome says.
In addition, some girls simply grew up in families steeped in wrestling tradition and have just been waiting for a chance.
Take Avery Meier. Her father, Josh, an assistant coach at W-SR, wrestled as a kid. She always wanted to follow in his footsteps but never had the opportunity.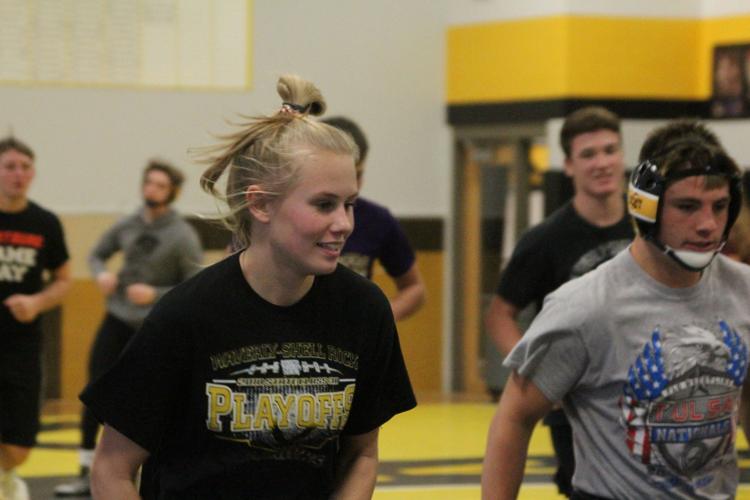 Then last season, Avery joined the team along with her older sister Jacey — Class of 2019 — and now her younger sister Brinley, a freshman, has followed suit.
"I don't have any brothers, so my mom never thought that she'd have any wrestlers," Avery said. "So now, she's excited that we three have wrestled."
Now that she's a veteran on the team, Meier has turned her attention toward potential additions to W-SR.
"We're just advocating," said Avery, sporting a black T-shirt, black tights and a blonde top bun. "We're not going to get bigger unless you start somewhere. And the little girls are where it's going to come up because there's a lot of them, and they want to wrestle and they look up to us.
"So we have to promote it the best we can and get as many girls as possible because we don't want to turn any away."
The Go-Hawks' family atmosphere is hard to miss. It's a space where lending a helping hand is not only encouraged but expected.
Nicole Miller Cummings, a freshman at W-SR, has this part down. A few months ago, Miller Cummings fractured her shoulder blade during a wrestling tournament, which left her sidelined her for about a month.
So during this fall practice in mid-October, the freshman exchanged her wrestling clothes for a turquoise hoodie and a white Apple Watch. Miller Cummings is making herself useful by helping her teammates and showing them new moves.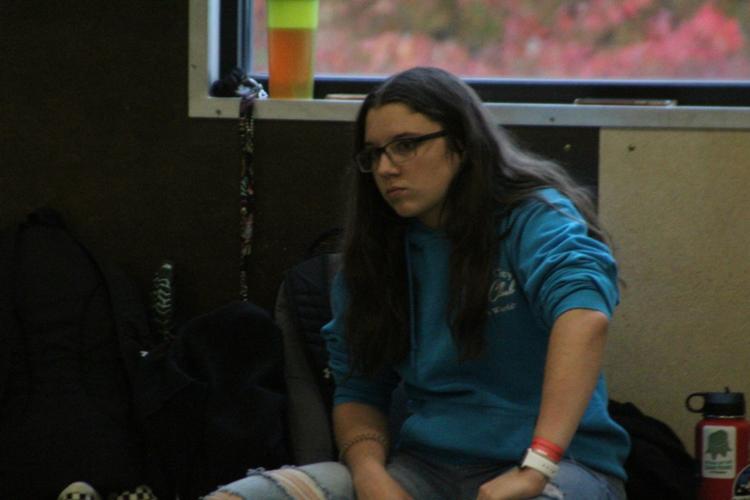 Around the wrestling room, she's become known as "Coach Nicole."
"It really makes me feel good when I'm able to help someone learn a new move and warm up at wrestling tournaments," Nicole said. "If I see a younger girl on our team struggling without having someone to warm up with, I'll take time out of my warmup and let someone else warm up on me."
But for all the newfound reasons to join girls wrestling, there are just as many barriers.
Barriers to entry
As Meier and Miller Cummings have worked to spread the word about the team, they've also borne witness to excuses used by those who are hesitant to join.
"Most people didn't want to wrestle boys, but since that barrier is gone, a lot of people have joined," Meier said. "But now that girls wrestle girls, it might be weight class, because girls are generally sensitive about their weight.
"Another barrier is not knowing what to do because you might not know anything about wrestling. I think as they come in, they'll get to know it pretty well, and we help them."
"They're scared of getting hurt, or wrestling in front of a lot of people," Miller Cummings added. "I just say it's still fun, you don't really get hurt that often. This is more one-on-one, so people think you're going to get hurt more."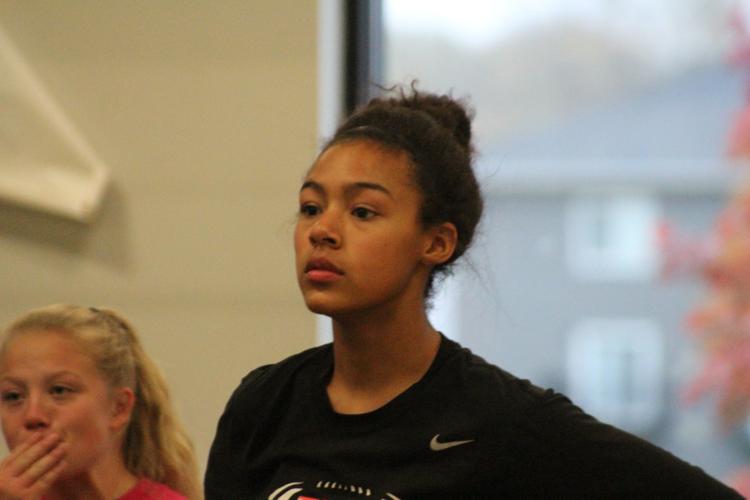 Whitcome said a reason people don't join is that they simply don't think they'll be good at wrestling. While many girls grew up in wrestling families, there are just as many that didn't, so they don't have any experience or knowledge to draw from.
"Why not give it a try," Whitcome posed, "if it's something that interests you? And when they start looking at it that way, they're all kind of like, 'Why not?'"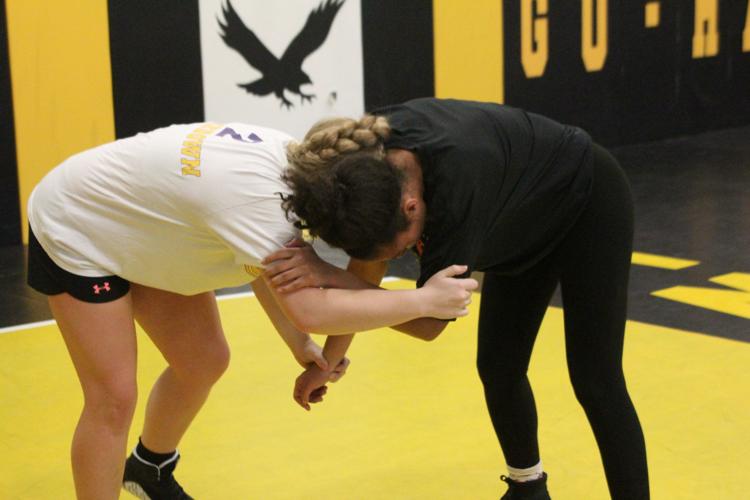 Another barrier? The fact that girls wrestling is not a sport that's sanctioned by the Iowa Girls High School Athletic Union.
Not a sprint, but a marathon
Creating a whole new girls team is a progressive move, but with progressive moves come new complications.
A new team requires more staff members, more coaches — assets that a program even as developed as W-SR doesn't necessarily have yet. It requires more resources, more funding to buy more equipment.
Thus, having girls wrestling sanctioned by IGHSAU would be a huge coup. With a sanction would come a full-time staff.
"Right now, the high school staff is doing it (coaching the girls) when it's convenient," Caldwell said. "We need to get it sanctioned. We have a lot of girls interested. I've been coaching wrestling a long time, and I love coaching the girls."
But it isn't a process that can happen overnight.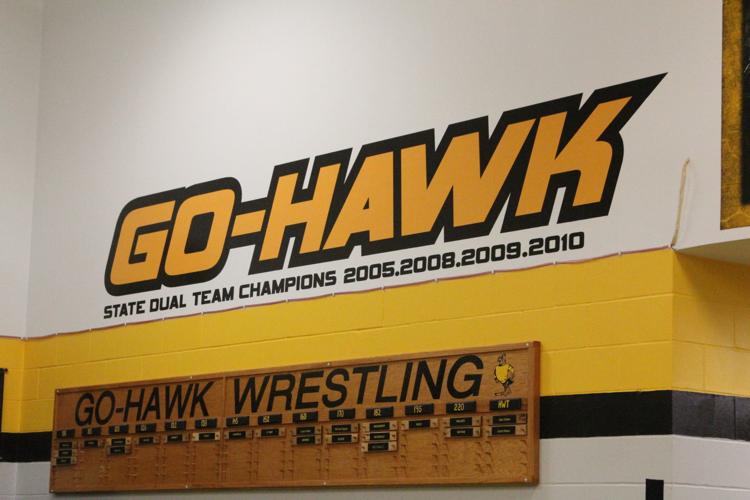 Back in April, Whitcome and other wrestling coaches in the state were told that in order for IGHSAU to move forward with the sanctioning, 50 letters of support from different school districts in Iowa were needed.
On Friday, Whitcome provided an update, saying more than 30 districts have sent letters. The support has come so swiftly that the coach ponders whether the union may have been caught off guard.
The school districts have in turn felt some pushback from IGHSAU, which recently claimed to have received only 14 letters of support, per Whitcome.
Part of the issue is that it's unclear to Whitcome and others exactly what will take place once the 50 letter threshold is reached. A switch isn't just flipped when that happens.
If the IGHSAU board does decide to sanction girls wrestling, how that takes form is unclear. Since every school has varying numbers of girls wrestlers, the process would have to be different for every school.
"For a school that has three girls, their program's going to look different from a program like ours, where we have 24 girls."
The murkiness has a reverb effect. If it's unclear for a school how its own team is going to be handled once the sport is sanctioned, why write a letter of support?
"It's always frustrating for anyone in this circumstance, where maybe it feels like the rules of the game aren't being conveyed at all times," Whitcome said Friday. "I think the girls union wasn't expecting as much support as quickly as they've gotten it."
Always looking for solutions, Whitcome suggested the idea of IGHSAU partnering with the Iowa High School Athletic Association, the organization overseeing boys high school sports in Iowa.
"They've already gotten a model in place that's working," Whitcome said. "With the strength of the girls union added to that, I think you could have a hallmark of how boys and girls wrestling should be run at the interscholastic level."
Moving forward
Whether it gets sanctioned by IGHSAU in the near future, girls wrestling will continue to dramatically grow. And no place in Iowa has a bigger impact on that growth than Waverly.
Midway through last season, Whitcome started receiving calls from the Iowa Wrestling Coaches and Officials Association, which wanted to put together a girls wrestling state tournament.
According to Whitcome, nearly 200 girls came from all across Iowa to compete in the event hosted at Waverly-Shell Rock.
"We would've had over 200, but the weather was horrendous," Whitcome said. "This year, we have no idea where the numbers are going to be at. I think it's going to explode.
"I've talked to numerous different programs in the state that didn't do anything with the girls side of things (last year). They think they're going to have 10-15 girls. All of a sudden, if 100 programs have five girls, we've doubled the numbers from a year ago."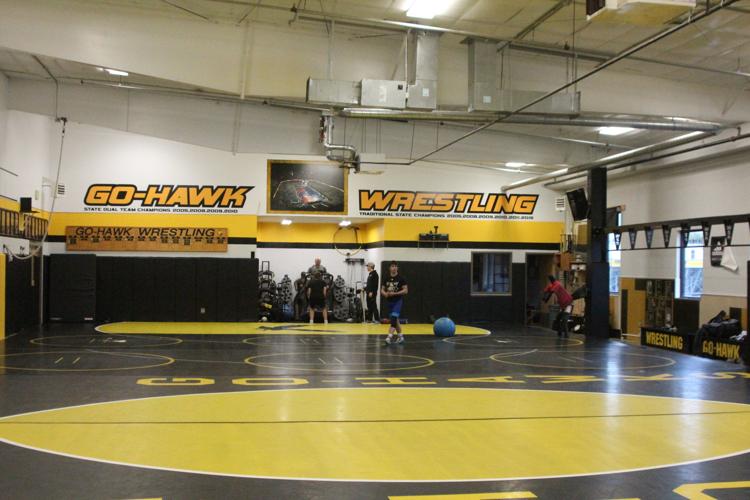 While the process might be moving slower than preferred, this is the kind of development Whitcome strives for.
"My philosophy has been, 'What's good for wrestling?'" the coach said. "There's a lot of great sports out there, but I think there are things that are special to wrestling that you don't get in other sports.
"Maybe it's a long-time residual effect, but I believe that over time, with the inclusion of girls, the education on the sport and what the sport has to offer is going to grow because of that."