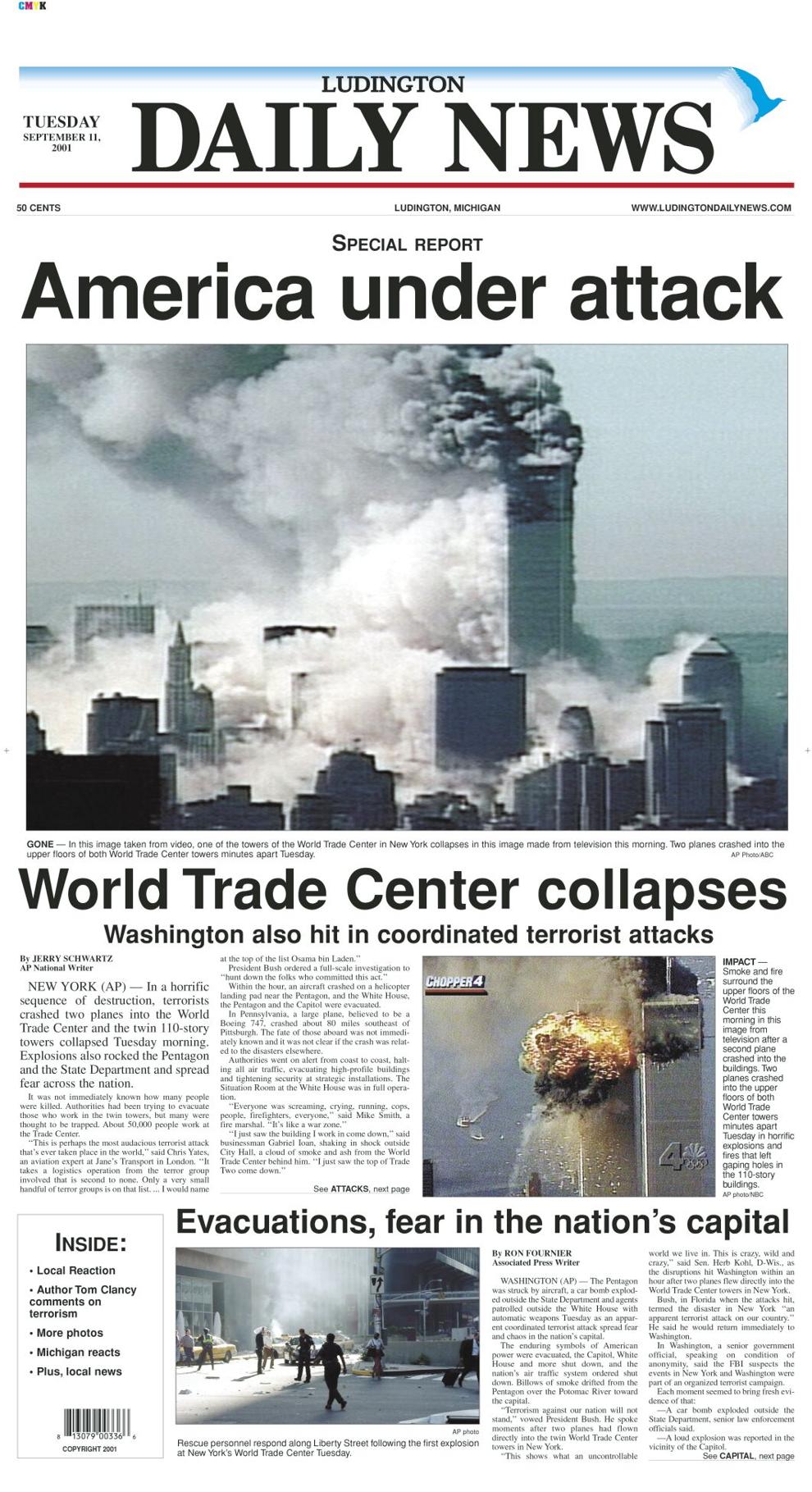 Extraordinary events require extraordinary effort to report on them for the community you serve.
The 9/11 terrorist attack proved such an event.
Reporters in New York City, Washington, D.C. and in Pennsylvania found themselves in the midst of horrific tragedy.
Reporters and news teams in communities across the nation, had a role to play, too: to inform our community what happened nationally and, in particular, to members of our communities at those sites, how our communities mourned the losses and responded to the attacks with that American determination to do what we could wherever we lived.
For the news staff at the Ludington Daily News, a small community daily newspaper on the shores of Lake Michigan, Sept. 11, 2001 started out like many other beautiful late summer days. We had stories to complete and pages to finish in order to meet our late morning press time.
The work was nearly done when the first word that a plane had struck a tower at the World Trade Center in New York City.
Our news editor at the time, Patti Klevorn, recalled thinking that's very sad for the pilot and people in what she at first presumed to be a small plane.
I found myself ensconced in a meeting with a telephone company representative trying to resolve a problem that couldn't wait. That completed, I walked out of my tiny office to my work desk in the newsroom and was informed something was up and the television in the conference room was on following the breaking story.
I walked back and watched as a second plane hit the second tower.
Stunned like everyone else, I didn't quite know what was happening, but I and all knew it was big, substantial and sickening. We also knew we had to tear apart the almost completed edition and get the story out as best we could.
As we worked, more news came across the Associated Press wire. Reporters Kevin Braciszeski and Cheryl Higginson and photographer Andy Klevorn headed to Ludington High School to see how students were reacting as they watched with the rest of the world the events unfold on television.
In discussion with then publisher David Jackson, we decided to add pages for a special report edition and to delay the morning's scheduled print time until early afternoon.
I'm not sure what we did with the scheduled page one stories that day. Some undoubtedly were moved inside, but most of the inside pages we let stand – you can only change so much.
As we pulled photos and stories from the AP wire to tell the national story, we added the local school story and Andy Klevorn scored a bit of a national scoop. A fan of best-selling author Tom Clancy, Andy thought the events reminded him of a story line in Clancy's seventh book, "Debt of Honor," so he emailed Clancy on a hunch to see if the author – whom had no connection to Ludington or Klevorn until the email – had anything to say.
Clancy took the bait and called the Ludington Daily News where Andy's wife Patti got the call. She recalls thinking why is this person calling now? But she yelled out, "Andy, Tom Clancy is on the phone and wants to talk to you" – only then realizing it was the national best-selling author and that, yes, Andy would try to call him.
Clancy was livid about the morning's attack and wanting to talk to someone-even a little daily newspaper he'd never heard of. "Somebody just awoke a sleeping giant," he told Klevorn, "and they are going to get burned." Prophetic again.
While the Clancy story became only a small part of the day's coverage and ran on page 3, national media later made the same connection and in ensuing days Clancy talked to far larger national outlets.
Meanwhile, the LDN staff talked to local people near to or at the sites of the New York and Washington, D.C. attacks telling their stories to help local readers understand the emotions and reality all Americans were connected – and targeted that morning.
We covered vigils, talked with ministers, emergency response personnel, lawmakers and local residents. We editorialized about not panicking about safety or gasoline supplies, and our shared sorrow and resolve.
The attacks didn't take place in Ludington, but we were part of it, we were – and are – connected as citizens of the United States of America.
I can't say enough about how the staff worked so hard not only that morning – when like everyone else we were stunned and wanted to watch and consider what was happening – but in the ensuing days, weeks and months as the stories continued.
The 9/11 attack was the LDN newsroom of that generation's Pearl Harbor.
The losses of innocent lives remain so sad. The emotional loss of so many also is heart-breaking.
Sadly, that feeling of being a united people that followed in the wake of the attack has been under attack for years by those wishing to divide us for their own purposes.
The fact it takes these violent attacks to reunite us, also is sad. Can't we see we are one even when we differ?
But Clancy, who has since died, proved correct, a giant was reawakened – for a while, at least.
And the little Ludington Daily News that day came out in early afternoon with a special report edition that served the community well on a day that so horrified the nation and the world.
We kept at our work as did community newspapers throughout the nation, being there for our community readers in good times and the bad ones.
God bless the USA ... and all you readers in communities across the nation. We're best working together for a common good.