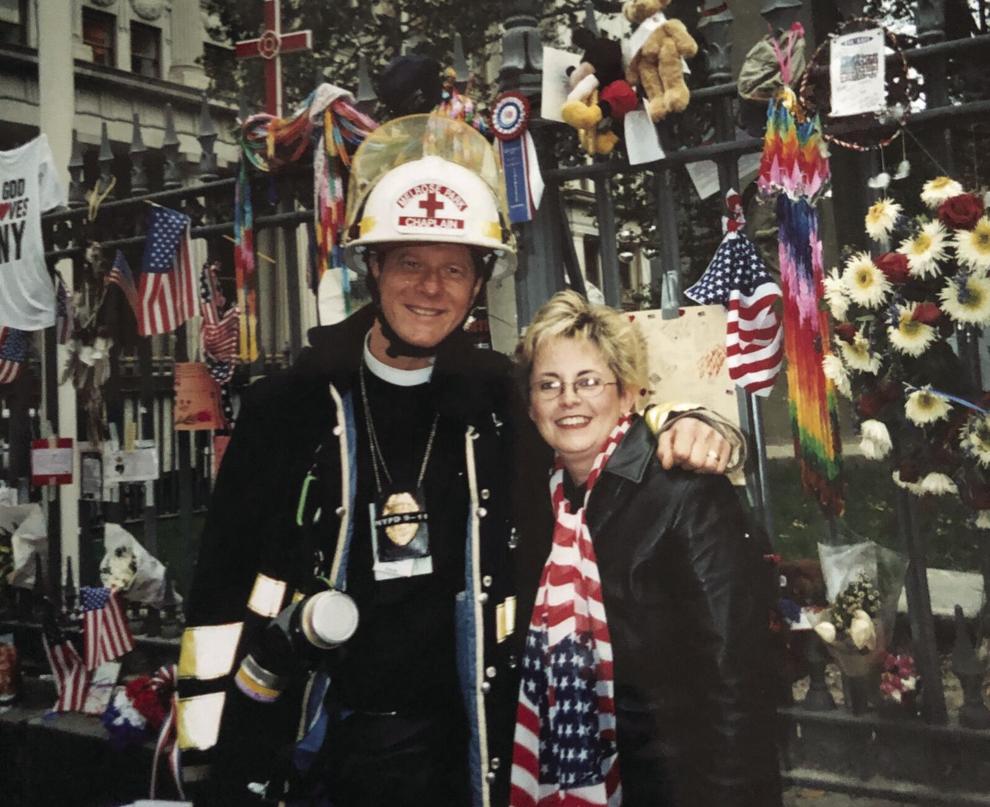 Originally published in the Finger Lakes Times on Sept. 11, 2002
GENEVA, NY – One year later.
Some people, such as Waterloo's Claudia Faust, think the tragic reminders and lessons of Sept. 11, 2001, will live on forever.
"If, for a second, I think things are tough, I need to think again. Everyday I am grateful for every breath I take," said Faust.
Others, such as Christian Peckham of Seneca Falls, aren't so sure.
"At first, there were tons and tons of flags and everybody had pins on. Everybody had shirts with a flag on and stuff. Now, you don't see as much," Peckham said. "It's hard to tell. In my little world, I guess it doesn't seem to have made much difference. In the whole country, I guess it's different."
Faust and Peckham are among a number of Finger Lakes area people who can speak from first-hand experience. They both traveled to Ground Zero soon after the attacks to lend their expertise — Faust is a massage therapist, Peckham as a volunteer with a Red Cross Disaster Action team.
Faust actually wondered why she was still alive in April 2000 when doctors nearly pronounced her dead. She said she got her answer on Sept. 11.
"I realized why I was still here — I was to do what I have been trained and love to do — heal with my hands, physically, spiritually and emotionally, as a licensed massage therapist," she said.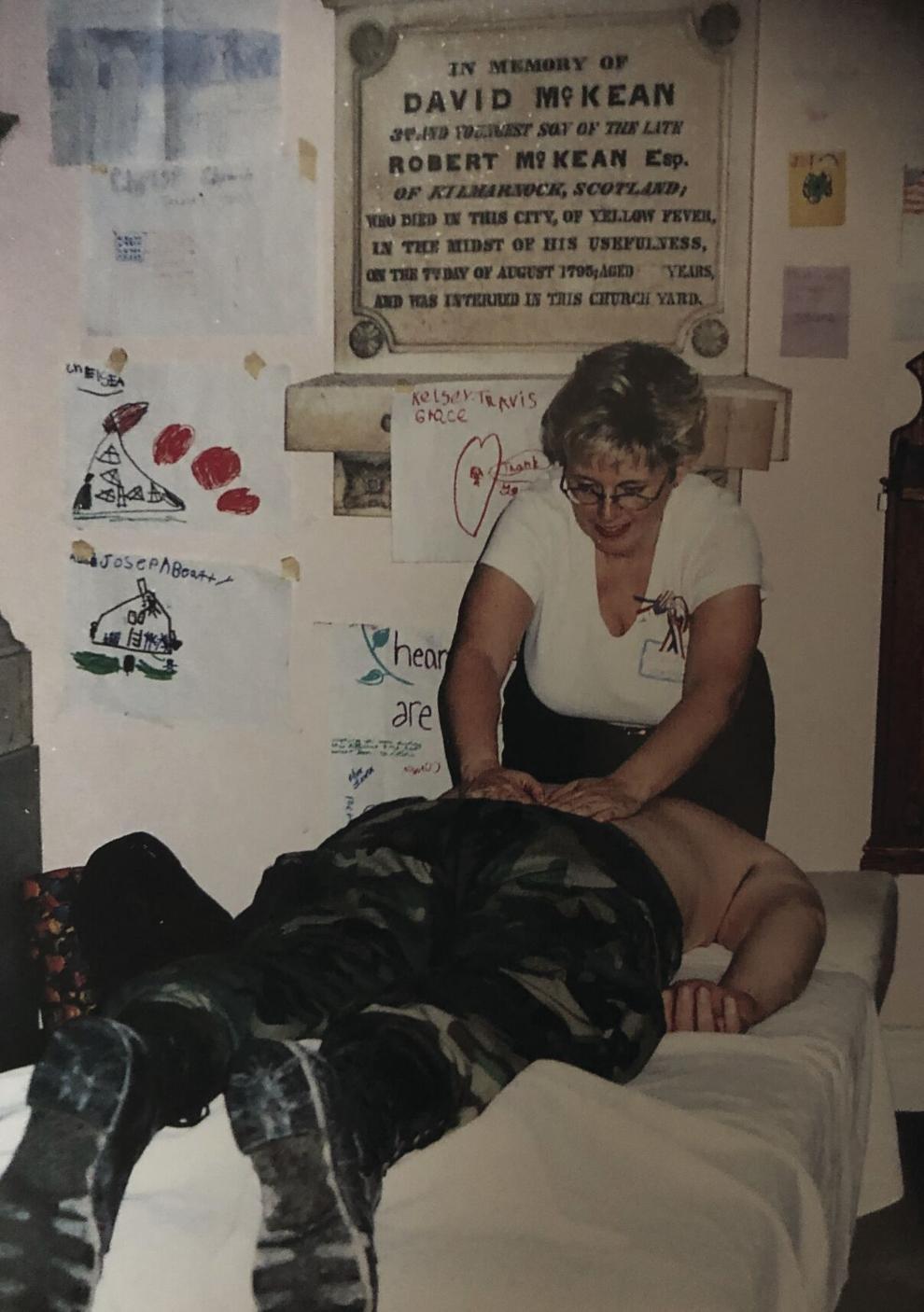 Six days after the attacks, she packed up her massage equipment and drove to New York City, where she spent seven weeks.
"The men and women I touched were true heroes — the Port Authority worker who survived the 65th floor of the North Tower, who is an Army national guardsman activated to Ground Zero; Sgt. Maryann who was directing people over the bridge; Willy and Dennis who never left the 'pile'; Jerry who walked me to the site and cried with me; a sergeant who was always there ready to take me back to the train.
"The hurt, the anger and the love that was so evident in each one will never be forgotten."
Peckham remembers hearing about the attacks throughout the morning a year ago and was mobilized with a team of three or four by noon.
"I went home, packed my suitcase and I was off," she said.
"When I got down there, I saw this huge pile of glowing and flames," she said. "That's all I can picture is this huge, huge pile of glowing and flames shooting out of the rubble. There was nothing recognizable.
"I was quite upset at first. It was very upsetting. I just concentrated on what I had to do and tried not to think about it, at least while I was working."
One sign of encouragement were the American flags that sprung up throughout the area — and the nation — as people pulled together.
Peckham works with Esther Bevers-Ng of Junius, Seneca County, who went down to help with another Red Cross Disaster Team. She spent much time offering financial assistance to those who had last their jobs or had damage to their homes.
"I was overwhelmed," Bevers-Ng said. "You couldn't help but be moved by the needs of the clients. It's almost scary to look back."
Her husband, Daniels Ng, was the only registered Disaster Services Human Resources member in New York state at the time who could speak Chinese, and he provided assistance to the large Chinese population.
"I went down there to help interpret," he said. "I was at Service Center 2, a few blocks from Ground Zero in Chinatown. I thought it was sad. It was very said that it happened."
He found the experience, which included a second trip to work with the nursing and mental health services, very rewarding.
"You feel like you're part of the community because you were able to provide assistance," Ng said. "I'm sure everybody felt like they needed to do something to help somebody."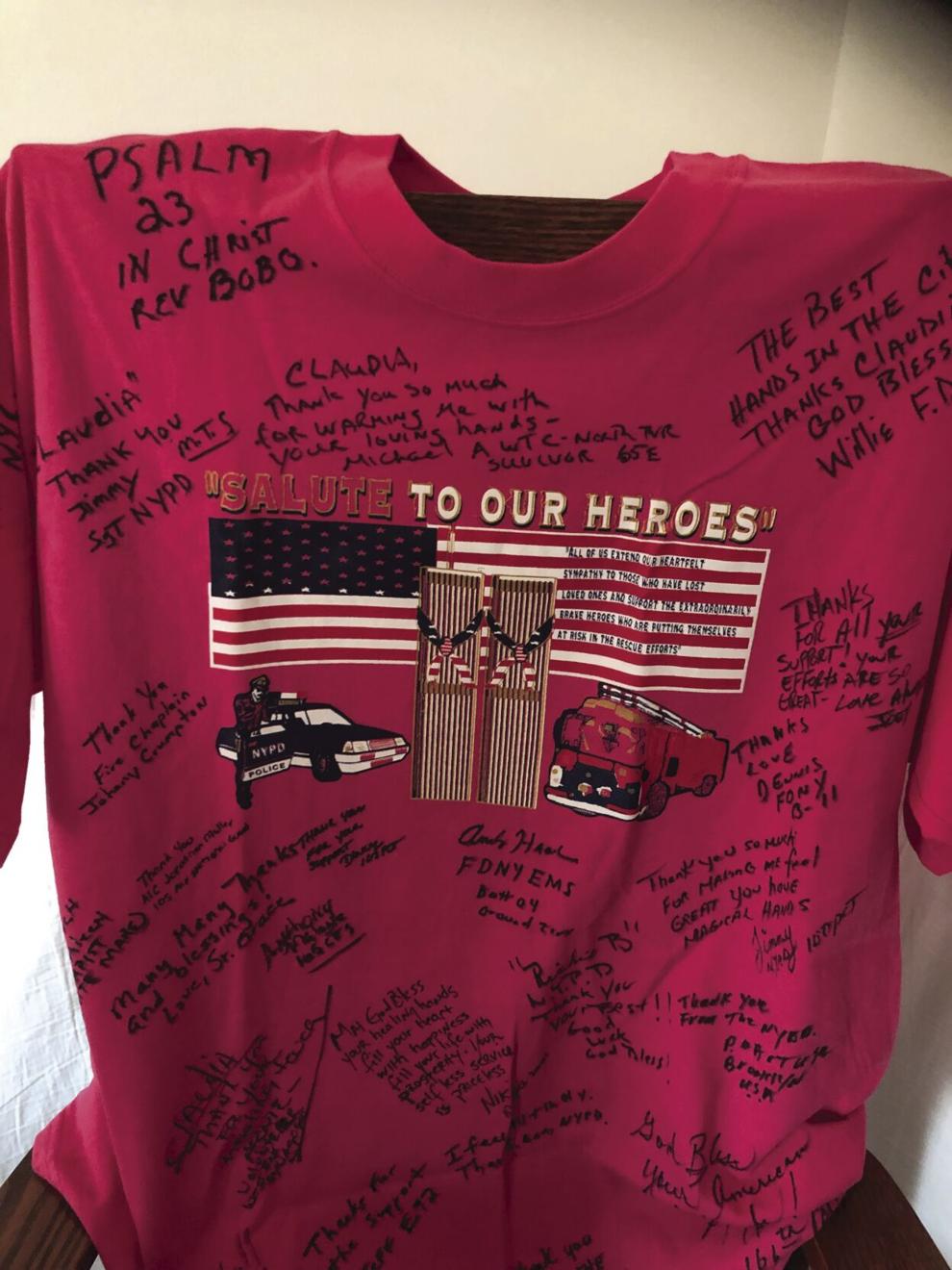 Dan Driscoll of Waterloo, a retired village police officer who now drives a school bus, went down by himself and worked among many retired police officers recruited for a first-time security force for the Red Cross.
"I was overwhelmed," he said. "The destruction was just unbelievable. It was nothing like I've ever seen in my life and just to think there were that many people dead, right there, to boot."
He said the worst part was when rescuers located the body of a firefighter or police officer. He said work would stop, "Taps" would be played and the body would be marched out under the cover of an American flag.
One of Driscoll's duties was to provide escorts between two centers as part of efforts to protect workers and their belongings and secure medical and other supplies.
"They knew they needed a security force right away, and we were creating it as I was there. We were creating the whole things as we went. I was also involved in some policy writing for some future reference.
"It was tremendous. People came from everywhere; every race, color, creed and they all wanted to help. Even if you didn't know somebody's name, they were a Red Cross volunteer. That's all you needed to know.
"I know that I'm proud that I was able to give those three weeks to the country, and the sense of patriotism is stronger than it's ever been."
David Peters of 17 Huff St., Waterloo, also spent time helping out at Ground Zero with the Red Cross from Nov. 15 to mid-December. He assisted emergency personnel with training n mass care.
Peters, 22, said his work there also took him to the Fresh Kills Landfill in Staten Island where much of the debris from the attack on the World Trade Center was taken. His work days would last 14 to 15 hours sometimes, even on Thanksgiving.
"The emotions were so high, being so far away from our families," he said.
Peters, a DeSales High School (Geneva) graduate, said he was happy to see the camaraderie of the groups down there working together, from the firefighters to the policemen to the FBI agents.
"It was great to help," said Peters, who is a childcare counselor at KidsPeace. "Even to do the littlest thing — getting someone a cup of coffee or having a conversation — it was great."
Members of the Senior High Youth Fellowship of the Presbyterian Church in Geneva went to New York City this past spring for their annual mission trip to help the less fortunate.
Nancy Birdsong, associated pastor and group advisor, said the most meaningful time was walking around a fence wall surrounding the St. Paul's Church near the WTC site.
"All the way around is covered with pictures and banners from all over the country and the world with messages of peace, with prayers, with pictures of those who have died and mementos," she said.
"I think the enormity of the loss just hits you when you walk around that building. People with hopes and dreams that had once been there are there no longer.
"There's still a deep sense of sadness and loss over what happened. At the same time, I've seen ways it has affected people and made them re-evaluate their priorities and their way of life.
"I think everybody reacts different, but I doubt there were many people who were not changed in some way. I think it's made people more aware of the need to understand people of different cultures and different religions and to find what we have in common instead of things that differentiate us."